Brand New! Premium Quality!
96mm Classic Bow's Handle

Kitchen, Bathroom, Cabinet Door handle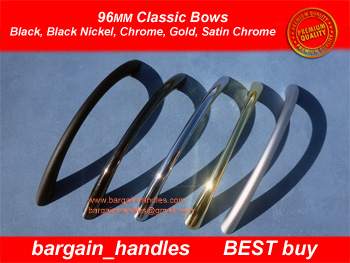 Classic Bow
(Black Nickel)


Classic Bow
(Chrome Plated)


Classic Bow
(Satin Chrome)

Q - How do i to work out if the size of the handles that i need is a 96mm
A - from the centre of the hole to centre of hole will be 96mm

- We are in Queensland and we send items 99.9% nationally - Australia wide
- All web orders are usually dispatched within the same business day of receiving cleared payment (1-3 days for some payments to clear)

- We use Australia Post to deliver your items.
This services come with a tracking number as this has been found to be the safest and fastest delivery method. We also use these services due to the value of your items.
2009 - 2018 ™®©