Brand New ! Premium Quality
Caravan / RV Motorhomes and Latch / lock and lever

(Matt Nickel)Finish Only
lock and Lever Door Latch (Matt Nickel)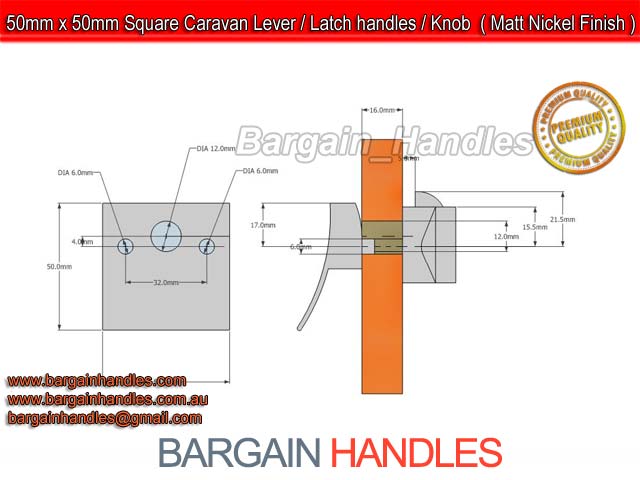 Finishes :
- Mattaed Nickel

Description: Push Knob with Latch
- Plastic Bottom
- Zinc Alloy Knob
Main Features:
- Suitable for left, right, up, down applications.
- lock and Lever functions as a handle while unlocked.

use the drop down box to see if the amount you need is listed below

If the amount that you need is Not listed eg:(13)
please ask for a Quote :)


International enquiries welcome

...........
These 50mm x 50mm (5cm x 5cm) Suite board 12mm-18mm are used by many leading brands of caravan and boat manufactures for drawers and cupboard doors.

Suitable for left,right,up,down hand applications.
Caravans, Motorhomes, Boats, Yachts.
- top quality item -

- finished in Matte Nickel -
Click to view larger image
Click to view larger image
Grab a bargain ! Don't miss out !
- We are in Queensland and we send items 99.9% nationally - Australia wide
- All web orders are usually dispatched within the same business day of receiving cleared payment (1-3 days for some Payment to Clear)

- We use Australia Post with Tracking to deliver your items
this services come with a tracking number This is the safest & fastest delivery method
We also use these services due to the value of the items

2009 - 2016 ™®©